In this theme wine labels and publications show trends in label design as well as the changing shapes of wine bottles and glasses. Prominent are the artwork and labels of eminent South Australian designer, Wytt Morro, whose working life from the 1940s to the present is showcased in an audio presentation. The theme also includes some of the wonderfully quirky front covers of the Epicurean magazine and some historical advertisements.
While most of the enjoyment of drinking wine comes from the contents of the bottle or other container, a number of things contribute to its quality or the lack of it. Accessories, such as the glasses, the corks or other stoppers, the corkscrews, as well as the information supplied on the wine label, can enhance or detract from the pleasure of drinking wine.
Wine bottles, casks and decanters
In antiquity wine was generally stored in amphorae, or large, usually earthenware jars, and served in jugs. Glass vessels were available tothe Romans but pottery and earthenware continued to be used for serving wine. With the increase in technology and the introduction of cork stoppers in the seventeenth century, glass containers began to be used regularly.
The early wine bottles were globular in shape with a round base and were held in special stands or baskets. Gradually the bottle took on a flatter base and so became self-supporting. The bodies were often onion- or balloon-shaped while the necks varied from long to short, depending on the preference of the particular country. In the eighteenth century the shape became cylindrical and this allowed the bottle to be "laid down" on its side. Modern bottles have retained the basic cylindrical shape but may vary according to the type of wine or the practice of different countries. Many German wine bottles, for instance, have very elongated shapes.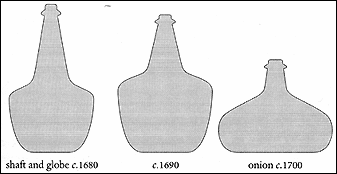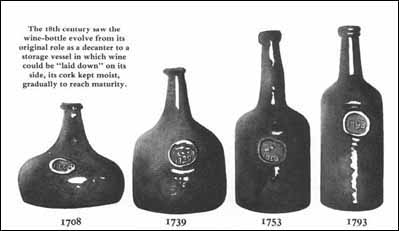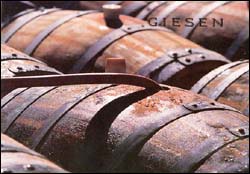 Large amounts of wine are stored in wine casks or barrels. These are usually of a commercial size used in wineries although smaller casks are available for home usage. In Australia the term wine cask is used for wine packaged in a box, sometimes known as "a bag in a box".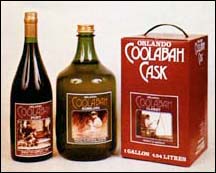 Stoppers are used to prevent the air contaminating the wine. Cork as a material was used in Roman times although wood stoppers were more universally used. With the revival of the glass industry glass stoppers came to be used, as with decanters, but these were expensive and so in the seventeenth century cork developed as the popular means of bottle closure.
Corks come in various lengths, depending on the type of wine or local preference. Some particular requirements are capsules for fortified wines and 'champagne' corks for sparking wines, the latter helping to retain the gas pressure.
Modern techniques have seen the introduction of new methods of closure such as plastic and composite stoppers and the screwcap, such as the Stelvin closure, which, although still controversial, are becoming more popular.
The first metal closure for wine was developed in France in 1959. An article, "Stelvin" - evaluation of a new closure for table wines", by B. Eric, D.A. Leyland and B.C. Rankine, published in The Australian grapegrower & winemaker for April 1976, gives results of closures tested in Australia.
The introduction of corks meant the necessity for corkscrews. Over the centuries hundreds of designs have been used, from the simple to the complicated or ornate, from the inexpensive, mass-produced types to the expensive and limited-edition varieties. Special extractors are also required for 'champagne' corks.
Glasses
The drinking vessel is the vital means by which the drinker consumes the wine. Although it can by made of a variety of materials, plain, uncoloured glass which displays the appearance and taste of a wine to the greatest advantage is desirable. Wine glasses generally have a stem to allow for the handling of the glass without affecting the wine's temperature.
Different shapes are frequently used for different types of wines. White and red table wines are generally served in different size glasses, with white wine in the smaller size, while Burgundy and Bordeaux wines have their own particular shapes. Port and sherry are mainly drunk from smaller glasses, while brandy is presented in a balloon-shaped vessel. The usage of some of these shapes may have changed over the years. For instance, sparkling wines used to be drunk from a coupe but, in order to retain the 'sparkle', the flute is now more favoured.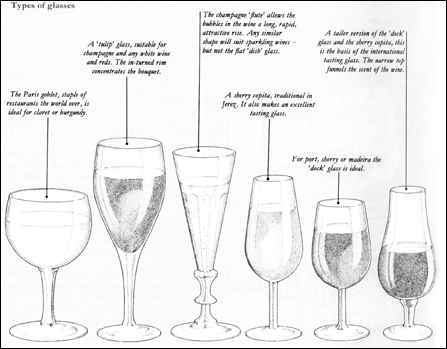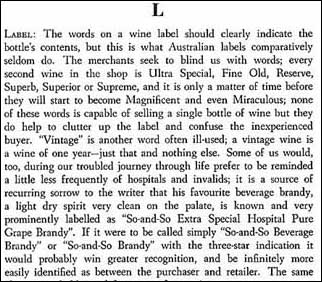 Walter James, in his 1952 book Wine in Australia, complained that Australian labels rarely did what labels should do and that is "clearly indicate the bottle's contents". Hopefully, the situation has improved since James wrote his book, particularly on the front label, although back labels can often be filled with extraneous detail.
Wine labels can be compared to the title-pages of books; they are a means of identifying the background of a bottle of wine. The information on the label may tell us some or all of the following: the winemaker, the country or region of the wine or grapes, the wine style, the grape variety, and the vintage or age of the wine. Under Australian law, labels must state the percentage of alcohol in the wine and the use of preservatives. Many of them also provide useful consumer information, such as how long the wine will keep and at what temperature and with what food it should best be served.
The State Library of South Australia has been collecting wine labels since the early 1970s and the collection includes labels from many overseas countries and from the other Australian states. The Library is particularly strong in labels from South Australian wineries as well as having a good representation of other Australian and New Zealand material. However, there are many gaps and we are always looking for more, so donations are very welcome, particularly for overseas labels.
As a result of writing to wineries for permission to reproduce labels on this website, a most generous donation of over a hundred labels was received from Santa Margherita S.p.A. of Italy, virtually a complete set of current labels from their own and sister companies, Kettmeir, S.M. Tenimenti and Torresella, divided into wine types. This represents an unparallelled view of an overseas winemaker's output, and we would be delighted to receive further such donations.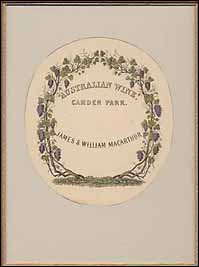 Wine labels have been around for a long time. Wine jars in the tomb of King Tutankhamun (d.1352 BC) had labels with enough detail to satisfy todays Australian labelling laws, except that they didnt reveal the grape varieties. Possibly the first paper wine labels were produced in Germany in the 19th century, followed by Champagne in France, where the great Champagne houses produced dazzling labels in gold, silver, bronze, blue and other colours.
In Australia some of the earliest came from James and William Macarthur of Camden Park. As James died in 1867 they must have been printed before that. The oval shaped label is bordered by an elegant vine, inside which are the words "Australian wine, Camden Park James & William Macarthur". In the centre there is room for additional information to be added by hand about the vintage and wine style. Its simplicity and lack of information is in stark contrast to many of todays elaborate and verbose labels.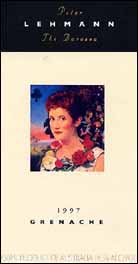 Some of the Australian landmark labels of the 1950s are:
Wynns Coonawarra Estate, with its stark yet eyecatching image of the cellars, Penfolds Grange with just lettering, Woodleys Treasure Claret series from 1949 to 1956, with reproduced historical prints, from Arthur Chard, initiated by Tony Nelson, the managing director of Woodley, designed by the leading label designer Wytt Morro and printed by Peter Teakle.
Today, with label designers and printers like AQ Australia, Precision Labels, Ian Kidd, Barrie Tucker, John Rowland, Barbara Harkness and Collotype, South Australia is leading the nation in label design.
These labels have been chosen for a variety of reasons. They include traditional and modern designs, simple and ornate, colourful and subdued, as well as those that depict fauna and flora, landscapes, native emblems, Aboriginal motifs, historical personalities, and images relating to the history of individual wineries. There is a representative selection of labels illustrating different wine styles and grape varieties, wines from various regions and notable vintages.
The biggest boost to the collection came a few years ago with the donation by Australias most influential label designer, Wytt Morro, of his collection of artwork, labels and packaging designs. Wytts work for many Australian winemakers from the 1950s on is without peer and a unique snapshot of Australian wine label design over 50 years.
Advertisements and price lists
Advertisements have been a major source of interesting design work over the years. These are a couple of examples of the historical ones for Yalumba, from Yalumba and its people, by Rob Linn. Other unusual examples of advertising are a bottle-shaped car for Penfolds and a cake of "Californian wine soap".
Etablissements Nicolas. Liste des grands vins fins. 1935.One of a series of fine wine catalogues illustrated by individual artists. This is one is by Darcy.]
Wine magazines
Epicurean. Some of the wonderfully quirky front covers from this now defunct magazine, from its beginning in May 1966 to its end in 1993. It was the first Australian magazine devoted entirely to food and wine and had a considerable influence on later food and wine writing.