For wine buffs and connoisseurs, this theme will intrigue. It takes a look at the medicinal claims made over the centuries about the health benefits of wine and the art of enjoying wine. As well as guides to tastings and the writings of major Australian wine writers, there are sections on wine clubs, investment, home winemaking, and wine and food.
"Wine should have an absolute unity, it should taste as one whole."

Robert Druitt. Report on the cheap wines ..... 1865
Wine and health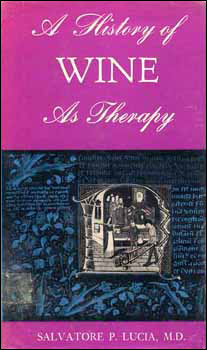 Salvatore P. Lucia?s A history of wine as therapy of 1963 gives us a survey of the use of wine as a curative down through the centuries, without the knowledge we have today. In the seventeenth century, for instance, wine was seen as a treatment for such diseases as typhoid, diphtheria and tuberculosis. More recent developments have showed the scientific bases for some of these theories.
Peter Shaw, a London physician, in his 1724 work The juice of the grape, claims that wine cures everything from smallpox to venereal disease, including gout. The State Library?s copy, beautifully bound with its spine and corners in calfskin, comes from the library of the great twentieth century wine writer, Andre Simon, and contains his elegant bookplate. Simon found the work ?very amusing?.
William Sandford, the author of A few practical remarks on the medicinal effects of wine and spirits, a very rare 1799 book, was ?Surgeon to the Worcester Infirmary?. He pleads "not to throw blame on wine indiscriminately, or to recommend the entire disuse of it, but rather to guard against the misuse".
Robert Druitt was a doctor-writer whose book, Report on the cheap wines from France, Germany, Italy, Austria, Greece, Hungary and Australia : their use in diet and medicine, was first published in 1865. It is particularly fascinating because it contains what surely must be one of the first attempts at writing about wine specifically for women and the first to outline the contents of a course in practical wine appreciation. In the second edition of 1873, which the State Library possesses, the lecture for women is omitted.
Druitt firmly believed in the health-giving properties of light wine, especially for sickly milliner girls. "They are admirably well-adapted for children, for literary persons, and for all whose occupations are chiefly carried on indoors, and which tax the brain more than the muscles."
Many health professionals, particularly in France, found the properties of wine to be very beneficial. X.M. Boulestin, in his 1933 work What shall we have to drink?, reports on the findings of a number of different authorities. As well as the physiological advantages, he also believes that "the qualities of good wine? react favourably on the individual?s moral tone".
Mon docteur le vin, with text by Gaston Derys and watercolours by renowned artist Raoul Dufy has the following to say on "Water against obesity":
Water has a tendency to thicken the flesh. Indeed, it neutralizes the poisons resulting from nutrition which are not destroyed by internal secretions that have become insufficient for lack of a stimulation such as wine; it is fat which forms and intervenes in the case of the drinking of water.The matter is quite different with moderate drinkers of wine, which has a happy effect on the glands responsible for burning up the residues of nutrition. As well, Dr. Dougnac shows that these glands, which secrete hormones that destroy the wastes, will do their work much better when stimulated by wine. "They will defend themselves more actively against the auto-intoxications which generate migraine, eczema, gout and obesity."And Professor Armand Gautier of the Academy of Medicine, is also of the opinion that wine, as an amplifier of the defences, of the organism, will allow a more vigorous fight against the auto-intoxications, nervous depression and obesity. "Moderate drinkers of wine are lean because they trim up their waste!"
Dr Charles Fiesinger.
Australian vigneron and doctor, Dr Philip Norrie, has written Wine & health; a new look at old medicine, in which he gives a summary of the early medicinal uses of wine. The book also includes a copy of a letter from Dr. Lindeman to the Medical Gazette in 1871 entitled, "Pure wine as a therapeutic agent and why it should become our national beverage".
Australian Consumer
Wine tasting and wine appreciation should be enjoyable pastimes, all the more so if the consumer is aware of the desirable characteristics of particular wine styles ? and the possible faults ? and if she or he avoids discussing them in pompous terms or jargon. Early books on wine rarely discuss what the wine actually tastes like, although books on the taste of food appeared at least early last century. There were no major books on winetasting until the middle of this century.
Len Evans, the foremost of modern Australian wine writers and doyen of the Australian wine industry, has a great, if somewhat optimistic, theory of drinking wine. In his article "Theory of consumption", published in 1979 in The Australian wine browser, edited by Anders Ousback, he states: "I?ve got no more than 10,000 to go and I cannot afford to waste a single one".
Evans edited the first regular publication for wine consumers in Australia, The Wine Buyer, which was first published in April 1968. Len Evans and his team succeeded in "giving an expert analysis of the best of available wines". The emphasis was on Australian wines, but wines from other parts of the world were included. The Wine Buyer ran for 96 issues, until January 1979. It is fascinating to read today for what it tells us of industry and consumer trends: it is also frustrating to read about some of the great wines then available at bargain-basement prices.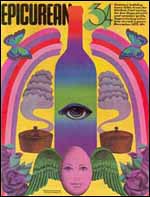 Another important publication was Epicurean. It was the first Australian magazine devoted entirely to food and wine and had a considerable influence on later food and wine writing. It was published from May 1966 to 1993 and was noted for its wonderfully quirky front covers.
Other Australian magazines of note are the Wine & spirit buying guide and the current wine magazines Winestate and Wine magazine.
Noted overseas magazines are the English Decanter and the American Wine spectator.
Len Evans also wrote a column for the Bulletin under the pseudonym of Cellarmaster. It is believed to be the first regular wine column in Australia. Many of his notes were published in 1966 as Cellarmaster?s guide to Australian wines. The State Library has the 3rd edition.
One of Evans? most noted publications was Australian and New Zealand complete wine book (1973), an encyclopaedic work giving a survey of the history of wine in Australia as well as individual wineries and vintages.
An earlier wine writer was Walter James. He produced some of the first Australian books intended both for the fashion-conscious dilettante and for the general reader without expert knowledge but with an interest in the history and appreciation of wine.
James wrote his first book sheltering behind the nom de plume of Tom Turnspit. The title, Venite apotemus : being some reflections on a year book, translates from the Latin as ?Come let us drink?, and the book contains the thoughts of James and others on various drinking habits concluding with an entreaty for an increase in wine consumption in Australia.
His Barrel and book: a winemakers' diary was published in 1951 and Wine in Australia : a handbook, the following year. Many people in the 1950s and 1960s were inspired by his books to take an informed interest in wine, which led to many Australian newspapers having a regular column on wine. James was our first ?popular? writer on wine ? he has had many imitators, but few if any equals.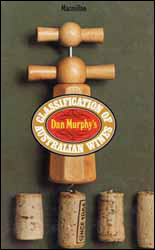 Another noted writer was Dan Murphy with his works Australian wine guide and Classification of Australian Wines (1974)
The Australian wine guide, published in 1966, was the first detailed guide to Australian wines for the inexperienced consumer.
Doctor and vigneron, Max Lake, founder of Lake?s Folly in the Hunter Valley, has written a number of books including Classic wines of Australia in 1966 and The flavour of wine in 1969. The latter discusses such influences on the appreciation of wine as ethnic background, ambience, labels, gender, Circadean rhythms and olfaction.
Today's leading wine writer is James Halliday, whose works include the annual Australia & New Zealand wine companion, Wine atlas of Australia and New Zealand and James Halliday's setting up your own wine cellar.
On the current critical scene, the annual Penguin good Australian wine guide, edited by Huon Hooke and Ralph Kyte-Powell, is a selective guide to wines on the Australian market.
Wine Adulteration
Wine has been and is still frequently supplemented by inferior wines. Outside the blending of wines, adulterations such as the addition of Brandy, particularly in Port, have been quite commonplace. Recently, with the ever increasing prices of old wines, there has been a spate of wine substitutions, some very deceptive, not only overseas but also in Australia.
The art and mystery of vintners and wine-coopers (1682) contains "approved directions for the conserving and curing of all manner and sorts of wines, whether Spanish, Greek, Italian, or French, very necessary for all sorts of people". For instance, beetroot is used to darken pale claret.
J.J. Forrester was an Englishman who travelled extensively in Portugal and owned property there. In the nineteenth century there were many styles of port-wine, and it was a favourite tipple of the English. Forrester?s pamphlet, A word or two on port wine, first published anonymously in 1844 and frequently reprinted, denounces the adulterations, including brandy, inflicted on port by its Portuguese manufacturers. Forrester had his detractors: he wrongly believed that his "countrymen do not desire?wine full of brandy; they prefer wines the most pure, and the least inebriative possible". The forceful feelings of Forrester, his supporters and his opponents, make fascinating reading today.
In 1876 James L. Denman produced a volume Wine and its counterfeits, which contains articles on "The plastering of wines denounced", by Dr Thudichum and "The best properties of wine destroyed by plastering", by Dr. Dupré.
The southern hemisphere is tackled in "Australia and New Zealand in trouble", an article in the more recent 1986 publication Wine scandal, by Fritz Hallgarten. In discussing the means of misleading the wine-buying public this work touches on the Australian use of European wine names.
Wine clubs
The Wine and Food Society, the world?s oldest gastronomic society, was founded in London in 1933 by a group of enthusiasts including the influential André Simon. Now an international organization, it is devoted to the "greater understanding and pleasure in good food, good wine and good company".
Some of the menus of Society dinners include:
IWFS The Pursuit of Excellence Council Dinner 15/9/1986
IWFS International Festival 1986
Ninth Triennial Festival IWFS Treasures of the Pacific Rim Dinner, Hong Kong Hilton, 29.10.1989
Wine & Food Society of Aust. Mildura 1974 4th Nat. Conv. & Barbecue
Wine and Food Society Awards Banquet Melbourne Hilton 3/4/81
Wine & Food Society of NSW 17/12/1963

The Bacchus Club, an Australian organization with similar aims, was founded in Adelaide in 1939 and a Barossa Valley Branch commenced in 1950. The history of the Club is part of the menu for the Golden Bacchus 50th Anniversary dinner, Alphutte Restaurant 23 June 1989.
The Bacchus Club, Barossa Valley Branch, annual vintage dinner, Angaston Hotel 6 April 1960
The Bacchus Club, Barossa Valley Branch, Yugoslav dinner, Angaston Hotel 19 May 1967
The Bacchus Club, Barossa Valley Branch, Australian classics, Vintners Restaurant, Angaston 22 May 1987
The Bacchus Club, Barossa Valley Branch, Bicentennial dinner: Australia rediscovered, Vintners Restaurant, Angaston 13 May 1988
The Bacchus Club, Golden Bacchus 50th Anniversary dinner, Alphutte Restaurant 23 June 1989
French societies, which have world-wide connections, are the Confrérie des Chevaliers du Tastevin and the Chaîne des Rotisseurs.
The Confrérie des Chevaliers du Tastevin was born in 1934, in a time of economic crisis, to promote the wines of Burgundy. Under the guidance of Georges Faiveley and Camille Rodier from Nuits-Saint-Georges, a group of fellow winemakers acquired the Château of the Clos de Vougeot as its headquarters. The Confrérie is noted for elegant dinners, in which the officials are adorned with picturesque robes.
Some of the menus of the Chevaliers dinners, which the State Library of South Australia holds, include:
Confrérie des Chevaliers du Tastevin Adelaide Club 29/8/69
Confrérie des Chevaliers du Tastevin Seaview Wine Cellar 29/12/78
Confrérie des Chevaliers du Tastevin- Middlebrook Winery 14/2/87
Confrérie des Chevaliers du Tastevin 24/4/1991 Urrbrae House
Confrérie des Chevaliers du Tastevin 6/3/1968 SA Hotel
The Chaîne des Rotisseurs was founded in Paris in 1950 and "is devoted to promoting fine dining and preserving the camaraderie and pleasures of the table". It bases itself on the traditions of the old French guild of goose roasters.
Chaîne des Rotisseurs 23/3/1981 Oberoi Adelaide
Other popular clubs in Australia are or have been the Beefsteak and Burgundy Club, the Bacchus Club, the Chicken and Chablis Club , and Les Femmes Wine & Food Club. Some of the menus of those club dinners include:
Edwardstown Beefsteak and Burgundy Club 26/7/1963
Edwardstown Beefsteak and Burgundy 10th Annual Dinner Dance 22/7/1966
Adelaide Beefsteak and Burgundy Club 34th Annual Dinner 11/8/89 at Orlando
Bacchus Club Annual Vintage Dinner Angaston Hotel 6/4/1960
Bacchus Club Yugoslav Dinner, Angaston Hotel 19/5/67
Barossa Valley Bacchus Club Australian classics Vintners Restaurant 22/5/1987
Golden Bacchus 50th Anniversary Dinner 23/6/1989 Alphutte
Les Femmes Wine & Food Club 23/10/1971 Naracoorte Hotel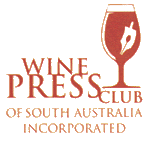 The Wine Press Club of South Australia Inc. is a not-for-profit club which endeavours to promote and encourage the interaction of people involved or interested in the wine industry in South Australia.The Committee of nine meets monthly, and aims to present interesting speakers and topics at monthly luncheons during the year. The main function is the Royal Agricultural and Horticultural Society of South Australia?s Royal Adelaide Wine Show?s annual luncheon, at which the Wine Press Club of South Australia?s trophy for the best red wine of the show is presented. Past speakers at Club luncheons have included Len Evans, Hazel Murphy, James Halliday, Louisa Rose, Stephen Millar, Huon Hooke, and Grahame Kraehe. The November 2000 speaker was Anne Ruston, Chief Executive Officer of the National Wine Centre. Club activities are reported in PRessings, the quarterly newsletter of Peter Fuller and Associates Pty Ltd. For further information telephone Louise Fisher on (08) 8231 3555.
SA Wine Press Club March Lunch - An American In Paris 1999
SA Wine Press Club Feb. lunch 1999, Rock Lobster Café
Wine book collecting
California has a wine book collectors' society, the Wayward tendrils whose members are known as Tendrils. The name comes from the book, The wayward tendrils (1948), by Ian Campbell. Its quarterly newsletter is a goldmine of information for anyone interested in wine books and wine history, and has contributors from all over the world. The April 1993 issue has an article "On the joys of collecting wine books", by Gail Unzelman.
Oenography : words on wine in the State Library of South Australia, by Valmai Hankel is an outline of the books held by one of Australia?s leading wine book collections. It gives a brief description of some of the more important volumes and describes two of the donated collections, the Thomas Hardy Wine Library and the Cellarmaster Collection of Rare Wine Books.
Wine investment
Wine investment has become a great interest to many new collectors and a number of guides have been produced to help the consumer, though they do not always stay the distance.
Will you take wine? By E.J. Foote (1935) contains an early article on the subject "Wine as an investment", which also gives hints on misleading names.
Auction catalogue of rare Australian wines, 12 March 1976, Theodore Bruce (Auctions) Pty. Ltd.
Wine auction records of Australia. Nedlands, W.A. : Rossarden Pty. Limited, 1980-1981
What is that wine worth? : a comprehensive guide to the current intrinsic value of over three thousand Australian wines from 1960 / Robin Bradley. [Melbourne] : JWT Publications, 1983 being digitized
James Halliday's setting up your own wine cellar. North Ryde, N.S.W. : Angus & Robertson, 1989.
Langton's vintage wine price guide.
Australian and New Zealand wine vintages, 16th ed, 1999, edited by Robin Bradley. A selection of pages which give brief descriptions of the wineries including winemakers.
Penfolds Barossa rare wine auction 1999 ? Barossa Vintage Festival.
Oddbins Silent Auction October 18, 2000
Home wine making
As the interest in wine increased many people began to take an amateur interest in wine making. A number of publications have helped.
In an early article on the subject noted Victorian viticulturalist, Francois de Castella, gives advice on "Home wine making", reprinted from the Journal of Agriculture of Victoria in 1921.
In the 1960s and 1970s when do-it-yourself methods became popular Rigby Ltd put out a pocket-sized publication Home wine-making, by B. A. Chatterton (1974), as one of a series for home bottlers.
Wine writer, Nick Bulleid, in an article in The Australian wine browser, edited by Anders Ousback in 1979 also provided assistance for the home enthusiast in his article, "Home bottling".
Wine and Food
Harriet Goodwin, an Englishwoman, writing for Australians in 1954 in her book How to cook with wine, comments that there is a new interest in the use of wine in cookery which "may be due to the influx, over the past year or two, of many European nationalities into Australia". Some examples of the use of wine with poultry are given.
Wine in the home: cooking recipe book was put out by H.M. Martin & Sons Ltd for Stonyfell Wines in the 1960s.
Cyril and Elizabeth Ray give their version of what wines go with what food in their 1974 work Wine with food, pointing out that it is only "one man?s individual taste, and an Englishman?s at that". They illustrates how the French from wine-growing regions often drink only that region's wines, and includes a description of a banquet in 1926 at which a different Château d?Yquem was served with almost every course.
Wine tasting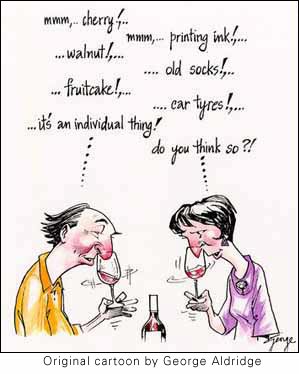 Wine tasting and wine appreciation should be enjoyable pastimes, all the more so if the consumer is aware of the desirable characteristics of particular wine styles - and the possible faults - and if she or he avoids discussing them in pompous terms or jargon. Early books on wine rarely discuss what the wine actually tastes like, although books on the taste of food appeared at least early last century. There were no major books on winetasting until the middle of this century.
Dr Alexander Henderson's 1824 work The history of ancient and modern wines is one of the few early books to describe the flavours of wine.
"It is up to consumers to discourage bad winemaking?knowing what to drink is based in knowing how to taste." The Bordeaux-loving Emile Peynaud's classic work Le gout du vin (Paris: Dunod, 1980), is directed at the amateur as well as the professional. An English edition, The taste of wine: the art and science of wine appreciation, translated by Michael Schuster and introduced by noted English wine writer, Michael Broadbent, appeared in 1987.
Broadbent himself has produced several books on the subject, including Wine tasting : a practical handbook on tasting and tastings (1968) and The compleat winetaster and cellarman (1984).
Australian writers have also contributed to the subject. Max Lake in his The flavour of wine: a qualitative approach for the serious wine taster, published in 1969, discusses such influences on the appreciation of wine as ethnic background, ambience, labels, gender, circadian rhythms and olfaction.
Bryce Rankine gives advice particularly for Australians in his Tasting and enjoying wine : a guide to wine evaluation for Australia and New Zealand published in 1990.