A record of the transformation of a fledgling wine producer into its present state as one of the most respected wine countries in the world. The theme includes extracts from early Australian writers on wine, brief accounts of the lives of national wine figures and the changing language of wine. South Australian material is generally covered in the theme SA Story.
Early Australians and their writings
Nineteenth-century Australian wine books reveal a great deal about our social history. Our pioneer oenographers wrote enthusiastically of their belief in the future of Australian winegrowing. Many of them were wine makers, and their books, often drawing on the writings of European experts, were full of practical advice. But Australia's soils and climate are different from those of France and Germany and their recommendations were not always appropriate.
One of the earliest settlers to plant grapes in the new colony was the explorer Gregory Blaxland (1778-1853).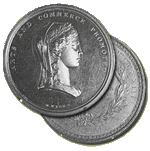 In 1816 he planted vines at "Brush Farm" in the Parramatta area, near present-day Eastwood. Blaxland is recognized as the first exporter of wine from Australia when in 1822 he sent a pipe of red wine fortified with brandy to England.
For this the Royal Society of Arts in London awarded him a Silver Medal in 1823. This success was followed by a Gold Medal in 1828 for a similar shipment sent in 1827.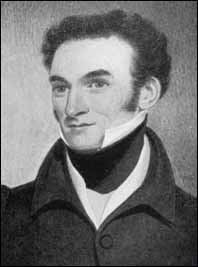 James Busby (1801-1871), known as the father of Australian and New Zealand viticulture and founder of one of Australia"s best-known wine regions, the Hunter Valley, arrived in Australia in 1824. Having studied viticulture and winemaking in France, he bought land in the Hunter Valley named "Kirkton", later to be developed for winemaking by his brother-in-law, William Kelman. While teaching viticulture at a Liverpool school, Busby planted a vineyard there but does not appear to have been involved in winemaking. Instead he is noted as being the writer of Australia"s first wine books, and importer of vines.
A treatise on the culture of the vine and the art of making wine, by James Busby. Sydney, 1825.
Australia"s first wine book was written a year after its 24 years old author arrived in New South Wales. Based on the ideas of French writers, it was intended to show "the respectable portions of the community" how to produce wine. Busby regarded viticulture as fitted "to increase the comforts, and promote the morality of the lower classes of the Colony".
A manual of plain directions for planting and cultivating vineyards and for making wine in New South Wales, by James Busby. Sydney: 1830. Facsimile reprint Hunters Hill, N.S.W. : David Ell Press, 1979.
This work provides detailed instructions for "smaller settlers". Busby draws on local experience: his book must have been of great practical assistance to its readers. In this extract he extols the pleasures to be gained from owning a vineyard.
Catalogue of vines in the Botanic Garden, Sydney, introduced into the colony of New South Wales in the year 1832, by James Busby. Sydney, 1842.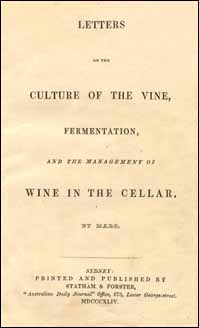 Busby also compiled our first ampelography. Originally published, with slightly different information, in Busby"s third book, Journal of a tour through some of the vineyards of Spain and France (Sydney, 1833) the Catalogue contains lists of vines collected from the Garden of the Luxembourg and the Montpelier Collection. The Sydney Botanic Garden collection briefly flourished, but was later neglected and eventually destroyed. Fortunately, samples from it were sent to other Australian colonies including South Australia, so that the collection was not completely lost.
Letters on the culture of the vine, fermentation, and the management of wine in the cellar, by Maro (i.e. William Macarthur). Sydney, 1844.
William Macarthur (1800-1882), son of "merino" John, published under the signature of "Maro" several letters of advice on grapegrowing and winemaking in the newspaper The Australian, in 1842. Two years later an expanded version, to which his own name was added, was published in book form.

The vines imported by John, William and his brother James from France and Switzerland were planted at the Macarthur estate, Camden Park, in 1820: the vineyard was to become an important source of cuttings for South Australia and elsewhere. In 1988 noted English wine writer, Hugh Johnson, tasted a red wine made by the Macarthurs some time between 1825 and 1870, and pronounced it "sumptuous...of enormous richness". Macarthur, like his father a man of strong opinions, was not known for his kindly attitudes to his workers-- "Eating grapes amongst the rows of vines should be absolutely forbidden", and grape treaders were expected to work fourteen to sixteen hours a day.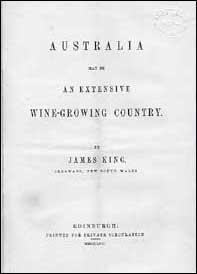 Another important wine grower of the time was James King (1800-1857), of "Irrawang", N.S.W., who arrived in Sydney in 1827. He first set up as a merchant before buying land near Branxton in the Hunter Valley, planting grapes in 1832 and making his first wine in 1836. In 1857 he sent a case of samples of his wine, "of vintage 1844", to dignitaries of the Duchy of Nassau, an extensive winegrowing area near Wiesbaden. The wines were found to be "excellent. Your red wine is equal in all respects to that of Asmanshausen, which holds the first rank among the Rhenish red wines". King, along with his great adversary William Macarthur, was one of the founders of the New South Wales Vineyard Association. This very scarce pamphlet describes King"s experiences.
Australia may be an extensive wine-growing country, by James King. Edinburgh: 1857.
Second annual sale catalogue of 35,230 gallons Dalwood wines to be sold by auction... May 2nd 1877, on account of Mr. John Wyndham by Griffiths and Weaver. Sydney : A.W. Beard, 1877.
One of the few of the early vineyards still in existence today is "Dalwood", now Wyndham Estate. George Wyndham arrived in Sydney in 1827 and the following year bought 110 acres of land near Branxton in the Hunter Valley. By 1832 he had 2 acres of vines, some of which he had bought from James Busby, and in 1836 he made over 7000 litres of wine. Misfortune came upon him in the 1840s and he was forced to rent out the property. This is a catalogue of an 1877 auction of wines by George Wyndham"s son, John, who toook over the business.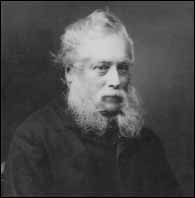 The other imporant name still in existence is that of Dr Henry John Lindeman (1811-1881), who arrived in Sydney from London in 1840 and settled in Gresford on the Paterson River where he set up a medical practice. In 1842 he purchased land he called "Cawarra" and the following year planted vines. Unfortunately he lost his winery, cellars and wine in a fire in 1851. The winery was rebuilt in 1853 and the vineyard expanded. In 1861 he went into partnership with John Wyndham of "Dalwood", selling their wine in Sydney, eventually establishing his headquarters there in 1870. In 1872 he expanded his interests, buying land at Corowa in southern New South Wales.
The arrival in Victoria of Charles Joseph La Trobe in 1839 with his Swiss wife was soon followed by a number of winemakers from Neuchatel, Switzerland, names like Belperroud and Pettavel, and De Castella.
Amongst the earliest areas to be planted in Victoria was that of the Geelong region.
Essays on the vine with instructions for its cultivation in Australia and how to make wine being a compilation of A concise and practical treatise on the cultivation of the vine in the colony of Victoria, by John Belperroud, and A concise and practical treatise on the cultivation of the vine in the colony of Victoria, by D.L. Pettavel. Geelong : Heath and Cordell, 1859.
These two essays were awarded prizes by the Geelong and Western District Agricultural and Horticultural Society. Belperroud"s essay includes a section on existing vineyards in the Geelong area.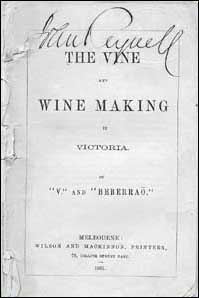 The vine and wine making in Victoria, by "V " and "Beberrao". Melbourne: Wilson and Mackinnon, printers, 1861.
This small pamphlet is largely a collection of letters to the editor of the Melbourne newspaper,The Argus, regarding the means of winemaking suitable for use in the colony of Victoria. Included is a resumé of the possible grape varieties and their ratings. As John Reynell"s personal copy, it is well-used with several hand-written notes, though lacking several pages.
Wine-growing in Australia, and the teachings of modern writers on vine-culture and wine-making, by Dr .Alexander Kelly. Adelaide: E.S. Wigg, 1867.
Dr. Alexander Charles Kelly (1811-1877), a wine-growing doctor, planted a vineyard in the early 1840s near Morphett Vale, which he named 'Trinity'. He later became a founder of the Tintara Vineyard Company at McLaren Vale, eventually to be taken over by Thomas Hardy. Kelly believed in the medicinal value of wine. This work, together with his The vine in Australia, is a thorough and intelligent presentation of theory and practice, and was of inestimable value to the vignerons of the time. Kelly was an unsuccessful entrant for the prize by the Geelong and Western District Agricultural and Horticultural Society which was won by Belperroud and Pettavel.
The vine in Australia, by Dr. Alexander Kelly. Melbourne : Sands, Kenny, 1861.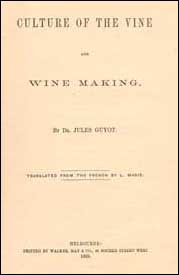 Culture of the vine and wine making, by Dr. Jules Guyot. Melbourne, 1865.
This work was originally published in French in 1860. Guyot was a noted French viticulturalist and a great advocate of cane pruning. An important method of pruning is named after him. This copy belonged to John Reynell and has page after page underlined and marginally annotated by him. From the great use made of it one can see the book as the gospel it once was.
Hubert de Castella (1825-1907), founder of St Hubert"s vineyard in Victoria"s Lilydale area, was the most lyrical and entertaining of Australia"s nineteenth-century wine writers. A naturalised migrant from Switzerland, he was an optimist, an enthusiast for Australia, for wine, and for the "contentment" of the wine-drinking Australian worker.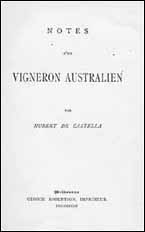 Notes d'un vigneron Australien, par Hubert de Castella. Melbourne: G. Robertson, 1882. Translated by C.B. Thornton-Smith as Notes of an Australian vine grower. Melbourne : Mast Gully Press, 1979. This work, intended to interest the French public in Australia and the Australian wine industry, is the more realistic of his two books: it relates financial hardships and other problems, including distastrous choices of grape varieties and viticultural methods in the unknown Australian climate.
John Bull"s vineyard, by Hubert de Castella. Melbourne, 1886.
These are inspiring books, running over with rich bonhomie, loving detail and sound advice.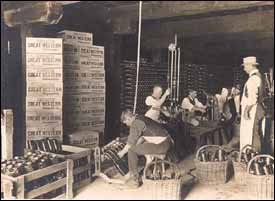 Views of Hans Irvine's Great Western vineyards and champagne cellars : Victoria, Australia. 1895.
In 1888 the Great Western winery founded by Joseph Best was sold to Hans Irvine (1856-1922), a Ballarat businessman and politician. Irvine was intent upon making a sparkling wine comparable with that of French Champagne, and to achieve this he attained the assistance of Charles Pierlot, a winemaker from the House of Pommery. Together they developed the venture into a successful, award-winning sparkling wine business, using the grape variety known as Irvine"s White (Ondenc) as well as the traditional Pinots. On Irvine"s retirement in 1918 the enterprise was taken over by Seppelts, who still continue the Great Western tradition today.
The Diary of Arthur Nicholson.
Nicholson was a wine buyer in Melbourne for P.B. Burgoyne and Co. from 1888 to 1903. His "diary" is a record of his visits to more than 180 winegrowers throughout Victoria, New South Wales and South Australia.